Often the most frequently asked question about property division during a divorce is what property the other spouse is entitled to receive. In most cases, that question is not so easily answered. In North Carolina, once parties separate, the division of property, usually referred to as equitable distribution, begins with spouses identifying all property owned as of the date of separation. Once all property is identified it will then need to be classified as either marital or separate property.
Making a determination as to what property is marital and subject to division during a divorce and can be a complex inquiry that can be managed best with the assistance of a knowledgeable family law attorney. 
How to Identify Marital Property
In North Carolina "marital property" is defined in §50-20(b)(1) of the North Carolina General Statutes as all real property and personal property that was acquired by either, or both spouses during a marriage,  and owned at the date of separation, except any separate or divisible property.   And will include all assets and debts acquired during the marriage, such as: 
Real property;
Personal property;
Any vested and unvested pension benefits;
All other deferred compensation benefits; and
Any cash value accumulated in insurance policies.
What is Separate Property?
All property owned at the date of separation between the parties is generally presumed to be marital, however, separate property of either spouse is not marital and not subject to division. Separate property will consist of assets that were acquired before marriage, or through inheritance or gift during the marriage.  However, gifts between spouses during the marriage are still considered marital property unless there is intention in the conveyance stating otherwise.  The party claiming any separate property has the burden of proving said property is separate. 
Determining the proper classification of property during a divorce is critical. One misstep in the identification process can have long-lasting consequences. Even those with simple estates often run into problems when having to classify property such as businesses, pensions, intellectual property, stocks, and other commingled assets. Additionally, in instances where there is a valid prenuptial or postnuptial agreement, determining what property is marital and should be divided can be a tough undertaking in an already difficult situation. 
The family law attorneys at Hopper Cummings are experienced in all facets of property division and can help you overcome obstacles in your case while working toward a successful and lasting resolution. We are skilled negotiators and creative problem solvers, and in situations where compromise cannot be reached, we are experienced trial lawyers. For a confidential consultation regarding your divorce and property settlement concerns, contact us at 919-533-4115, or complete our online form.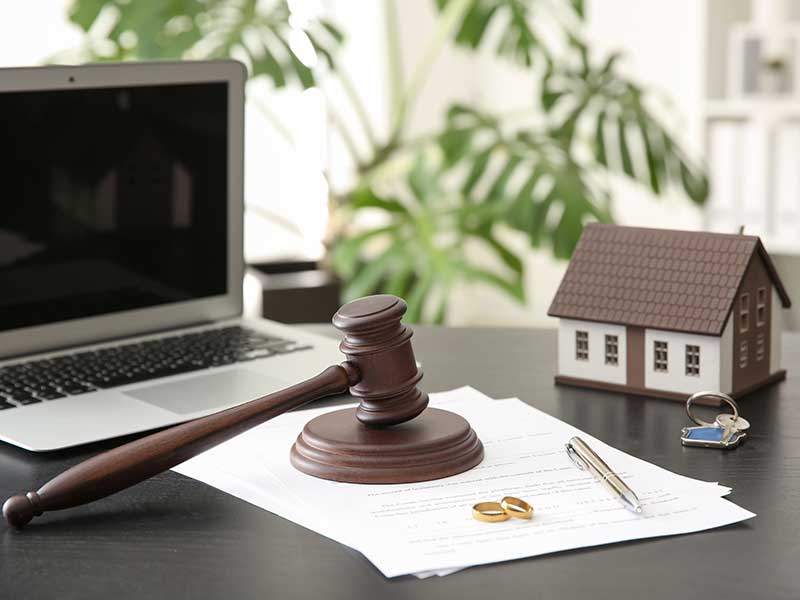 Ms. Hopper was patient and detail oriented. ... Overall, the process was efficient, well-organized and painless. If you're looking for someone to assist with your will and advance directives, we would highly recommend Hopper Cummings.
Seeing that Robert Cummings is going to be my opposing counsel in a family law case means that case is going to be fought fairly, efficiently, and intelligently, without expensive 'lawyer games' or undue delays. I have and will continue to refer cases to him.
My family has used Hopper Cummings for estate planning and wills as well as occasional legal advice. The process was always efficient, respectful, and individualized to our specific needs. This is the benefit of a local firm -- I highly recommend them for any civil law needs!
I refer all family law matters to Robert Cummings because I have confidence in the way he interacts with clients.
My husband and I worked with Marie Cummings and her team to complete our estate planning. This is not an easy task for anyone, and we so appreciated Marie's experience, expertise, patience, and support. ... We are happy to offer a wholehearted recommendation for Marie and her colleagues.
I came to Mr. Cummings during the most difficult time of my life.  He helped me navigate the divorce process in a no-nonsense way.  ... His voice of reason helped me to stay calm and focused on the task at hand.  I highly recommend Mr. Cummings to anyone in my position.
Robert Cummings provides a firm, steady and calming approach to custody issues.
Robert is a highly effective attorney. I have referred several people to him and have heard nothing but positive experiences. He understands the law and cares about his clients.
We have worked with Hopper Cummings on several occasions, from estate planning to starting a 501(c)(4). They are welcoming and responsive. They explain things in easy-to-understand terms and set reasonable expectations. We highly recommend Hopper Cummings!
Robert Cummings represented a family member in a moving violation. He was responsive to all of my questions and very professional in explaining how the system worked and what needed to be done to help resolve the ticket with the best possible outcome.  I would recommend his office and their services. 

Robert and his team were amazing ... was successfully able to move the court date forward and have the ticket resolved and diligently e-mailed us all the confirmations as well. Thank you to his team and we would highly recommend them.
Robert understands traffic law and he is a very effective advocate for his clients. I have referred several clients to Robert and he always does a great job.
They made it easy and effortless for dealing with traffic court! I appreciate you all. Great communication too.
Great experience!  I received my first moving violation in about 20 yrs ....  called Hopper Cummings for assistance.  The process from first contact to resolution went smoothly. Highly recommend!
Excellent Family Law Attorney.
Awesome lawyer worked hard to get the best outcome for me on a very complicated case. I would recommend Robert Cummings, he cared about my case and represented me very well. Would use him again.
Robert is an experienced, thoughtful and professional attorney. He exhibits the highest standards in his practice.
Robert was quick to return my call, even on a day he was in court.  He was knowledgeable and friendly as was his staff.  His honesty and hard work is definitely an asset.
Robert does a great job managing a large traffic law caseload yet representing each client zealously. He understands the local procedure for a large traffic caseload and navigates that system with ease.
Robert Cummings is an excellent attorney with a high level of integrity and compassion.