Most individuals believe that traffic violations are minor and the best course of action is simply to pay the fine and move on. However, even the smallest traffic infraction can result in long-lasting consequences. By paying the fine you are admitting guilt and accepting points on your license. Points can cause your insurance rates to increase and cost you more money. In addition, if you accumulate enough points within a certain time frame you risk losing your license. If you have received a traffic citation in Chatham County, you should contact an attorney for a consultation about your options.
At Hopper Cummings, our attorneys have handled all types of traffic offenses.  We have extensive knowledge of the traffic laws and procedures in Chatham County and can help you save time and money. Some of the common traffic violations we handle include: 
Speeding tickets
Stop sign/red light violations
Reckless Driving
Failure to Yield
Unsafe Movement
Unsafe Passing
Tickets Resulting From Accidents
Why Not Just Pay the Fine or Handle Your Ticket on Your Own? 
Believe it or not, traffic citations are a delicate matter. Should you elect to take matters into your own hands and handle minor traffic infractions on your own, be prepared to wait in court before your case is heard. Traffic violations are mainly handled in what is referred to as admin court and it is notorious for long wait times due to the overwhelming number of cases there. In most cases we will appear on your behalf, saving you from having to spend your day at the courthouse waiting.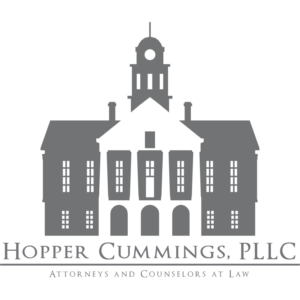 Can I Request a Prayer for Judgment? 
A Prayer for Judgment Continued [PJC], a term used for a delayed conviction of your offense, can be requested at the hearing date. However, PJCs are not guaranteed and are only granted in certain circumstances. Therefore, even if you have a clean driving record, you may not be granted a PJC. Additionally, a PJC will not result in the charges being dismissed. It is not uncommon for individuals to believe they can handle their own ticket under the belief that a PJC will be granted to only find out in court that is not possible and then need advice as to what to do. In these situations, neither the district attorney nor the judge will be able to offer you any type of legal advice, should you need it. 
What if I Missed My Hearing Date? 
If you miss your court date it's not the end of the world. Depending on the offense in question and your history you may only be facing a fine or the possibility of having your driving privileges suspended. For other serious matters missing a hearing date could result in a "failure to appear"  with an order for your arrest being issued. If you have missed your court date immediately contact us for assistance to resolve the matter in an expeditious manner and avoid any further repercussions.  
For most minor traffic infractions or traffic tickets, our attorneys are able to assist you completely virtually through our online services. Often your presence is not needed at the hearing, saving you from having to appear in court and wait for your case to be heard.  Before you simply pay your fine and move on, consult with us to find out your options to protect yourself. Our services for traffic violations may be more affordable than you think and well worth the peace of mind knowing that you have a trusted and knowledgeable attorney handling your ticket. Potentially saving you in court costs, license points, and countless dollars in insurance premiums. 
To contact us about handling your traffic infraction simply click here to complete our online information form and upload a copy of your ticket. Once we have your information we will contact you further to discuss your driving record and advise you of your best options to proceed. Then, should you decide to proceed with representation, we will then send instructions on how to formally retain us to handle the court appearance on your behalf, and in most cases, your appearance in court will not be necessary.
For most of our violations, the minimum price for processing your traffic ticket is $200, exclusive of court costs and fines. Depending on the circumstances of some matters, additional charges may apply. We are happy to speak with you about any questions you may have as to what our fees may be for your specific situation. 
At Hopper Cummings, our attorneys understand the importance of driving privileges and are committed to providing our clients with competent legal representation in all traffic offenses. We work hard to obtain the most favorable outcome for our clients. We will strive to have charges dismissed or reduced in order to minimize the points on your license and the impact on your insurance rates. If you have a traffic citation and need assistance, we are happy to discuss any questions or concerns you may have about your case, contact us today by phone at 919-533-4115 or online by completing our form here. 
This article and all of the content on this website are intended for information purposes only and are not to be considered legal advice or substituted for consultation with an experienced attorney. We strive to ensure the content on our site is current, informative, and based on North Carolina law and practice procedure in effect at the time of its writing and publication. Call our office to schedule a consultation at 919-533-4115, email us at info@hoppercummings.com, or complete a contact form on any page of this site for specific and accurate information about your unique matter.