Estate administration is the process of settling and finalizing legal and financial affairs after someone passes away. Probating a will or opening an estate when someone dies without a will can quickly become overwhelming. Distributing a loved one's estate can be a daunting task without the guidance of an attorney, especially for complex estates involving numerous assets or complicated assets.
Estate Administration Procedures
Estate administration is a complex process involving numerous steps that must be precisely taken to ensure that you are not only compliant with state and federal laws but also with the will if there is one. The first step is to petition the court to open an estate file. If there is a will, you will need to have it admitted to the court. Once the court approves a will, it will be necessary to obtain a letter of testamentary that authorizes a person to act as a fiduciary and settle the legal and financial issues involved. This person is referred to as an executor. When a person dies without a will it is referred to as dying "intestate", and in these instances, the court will appoint an "administrator" to handle the affairs and finalize the estate.
Duties of Executors and Administrators
Both administrators and executors are required to gather, inventory, and value all of the decedent's assets. In addition, it is necessary to provide legal notice to creditors about the estate and distribution of assets. While having a will can provide a helpful road map of a decedent's assets, in some cases, it can be outdated. Assets may no longer exist, or there may be new assets not specifically named that must be located. Locating and valuing items can become overwhelming. For administrators operating in absence of a will, North Carolina has strict laws in place governing how to distribute assets.
Handing the administration of an estate properly is critical. Executors can be held liable for mistakes made while fulfilling duties. Common mistakes often include misappropriation of estate funds, abuse of power, or missing critical deadlines set by the court. While mistakes can happen, they frequently occur due to a misunderstanding of the laws surrounding probate. A knowledgeable attorney can help you avoid the pitfalls of probate and ensure that the estate is finalized properly the first time and beneficiaries receive the assets they are entitled to.
Estate Administration Disputes
In addition to dealing with all the intricacies involved in settling the estate's affairs, you may be challenged by your loved ones and questioned about your handling of matters. Disputes and other conflicts between family members are common and often range from questioning the validity of the will, known as a "will caveat", to disputing the interpretation of the will's directives. An experienced attorney can guide you through managing the affairs of the estate properly and resolve any concerns raised by others.
Our attorneys at Hopper Cummings have helped many individuals in the estate administration process in Chatham County. We are able to provide sound guidance to executors, administrators, beneficiaries, and other interested parties to ensure the estate is handled correctly and in an efficient manner. Regardless of the size of the estate involved, from modest to complex, we are well-versed in all aspects of estate administration, including preparing inventories and accountings, administering estate accounts and negotiating and preparing family settlement agreements. For a confidential consultation, contact us today at 919-533-4115, or complete our online form.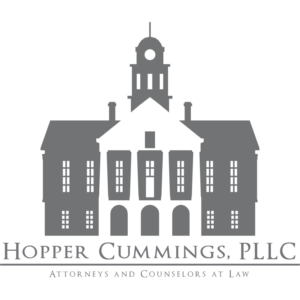 ESTATE & FIDUCIARY ARTICLES
This article and all of the content on this website are intended for information purposes only and are not to be considered legal advice or substituted for consultation with an experienced attorney. We strive to ensure the content on our site is current, informative, and based on North Carolina law and practice procedure in effect at the time of its writing and publication. Call our office to schedule a consultation at 919-533-4115, email us at info@hoppercummings.com, or complete a contact form on any page of this site for specific and accurate information about your unique matter.