Ensuring that your family and loved ones are provided for after your death is often a top priority for individuals, however, accomplishing a plan that meets your needs can be a difficult and stressful task. Estate plans can consist of only a simple will or it can be a comprehensive strategy involving numerous planning documents such as wills, trusts, power of attorney, and other advance directives. A knowledgeable estate planning attorney can be instrumental in guiding you through the estate planning process to ensure you have the appropriate documents in place to protect your assets and provide for your family in the event of your incapacity or death.
At Hopper Cummings, we understand that each family or individual's needs are different and there is no one size fits all. We work closely with our clients to develop a custom-tailored plan unique to their situation and wishes. Regardless of the size of your estate, we are able to help you with the following estate planning solutions:
Last Will and Testament
Revocable Living Trusts
Testamentary Trusts
Special Needs Trusts
Power of Attorney
Medical Directives
A successful estate plan starts with careful consideration of all elements involved in your estate, including your personal wishes and desires. A well-crafted estate plan can ensure your assets are preserved, protected, and passed down as you desire while minimizing any probate and estate taxes and ensuring that your family's financial future is secure without the burden of complication unnecessary taxes or expenses.
Wills and Trusts
Having a will or trust in place can aid in the distribution of your assets to your intended beneficiaries. These documents can also name desired guardians of any minor child's estate and other unique requests you may have. In the event that you do not have a valid will or trust in place to account for, and properly distribute your assets, your property will be distributed according to the intestate succession laws of the State of North Carolina. If passed by intestate succession your estate will be distributed by state law and possibly, not how you desire.
Health Care and Other Directives
In addition to providing for the distribution of your estate, we help you in the preparation of other documents necessary to ensure your wishes surrounding your healthcare and financial decisions are properly handled in the event you are unable to make those decisions. This is done through instruments such as powers of attorney, living wills, and other health care directives. Having these documents in place enables you to voice your wishes to your family, providing them with direct and precise direction while removing any conjecture they may have as to what they think you might want. For other situations you can name an agent to act on your behalf and make decisions, avoiding disputes that might occur between loved ones.
An experienced attorney can guide you through the tough considerations and decisions that need to be made in creating an estate plan. If you are ready to create a plan to spare your loved ones additional hardship and stress during an already difficult time, the first step is to contact a knowledgeable attorney for a consultation.
At Hopper Cummings, we know it can be difficult to consider every scenario, therefore we provide you with a comprehensive questionnaire to complete before your consultation to help us better understand your needs and wishes. At the consultation, we thoroughly discuss your responses and address your concerns to ensure we properly identify your goals and wishes. We know the nuances surrounding estate planning and can help you create a plan or amend your current plan to ensure it effectively achieves your wishes. Contact us today for a confidential consultation at 919-533-4115, or complete our online form.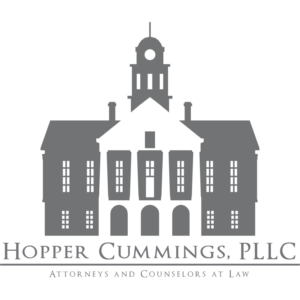 ESTATE & FIDUCIARY MATTER ARTICLES
This article and all of the content on this website are intended for information purposes only and are not to be considered legal advice or substituted for consultation with an experienced attorney. We strive to ensure the content on our site is current, informative, and based on North Carolina law and practice procedure in effect at the time of its writing and publication. Call our office to schedule a consultation at 919-533-4115, email us at info@hoppercummings.com, or complete a contact form on any page of this site for specific and accurate information about your unique matter.